WeMake e Polifactory insieme per Fab Academy 2016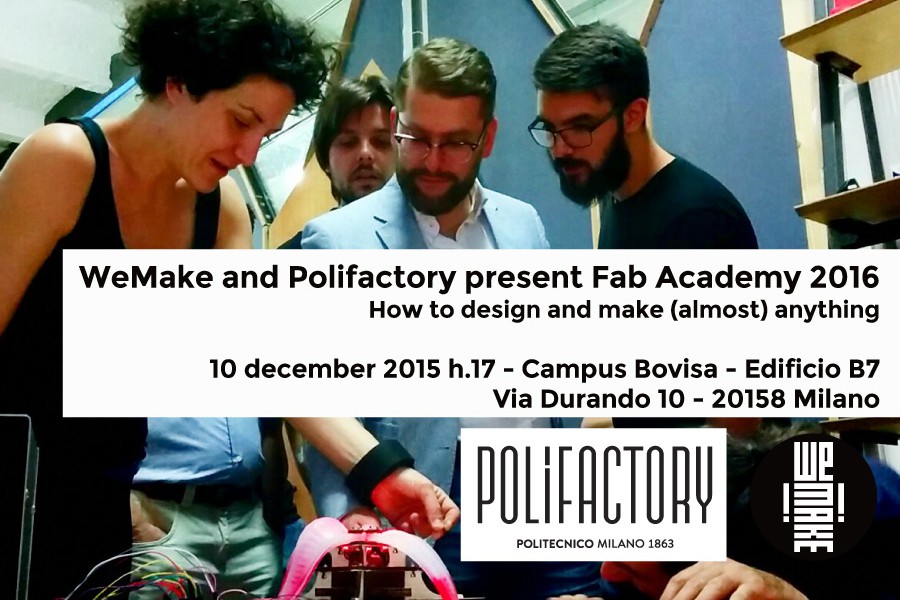 (english below)
WeMake e Polifactory presentano FabAcademy 2016
Fab Academy è il corso più completo per apprendere le basi della fabbricazione digitale, dall'utilizzo delle macchine alla progettazione di circuiti e tecnologie.
La Fab Academy riprende la struttura e i contenuti del corso "How to Make (Almost) Anything" del MIT di Boston, attraverso la rete mondiale dei Fablab. Il corso si svolge in contemporanea in più di 70 Fablab in tutto il mondo e si suddivide tra le lezioni tenute in videoconferenza da Neil Gershenfeld e sessioni pratiche svolte a WeMake, dove si viene seguiti in un'azione di formazione e tutoraggio.
WeMake e Polifactory
L'idea alla base della coproduzione WeMake-Polifactory è quella di dare vita a una edizione sperimentale della Fab Academy. Un corso che, a tutta la ricchezza dei contenuti del corso How to make (almost) anything, aggiunga alcuni singoli moduli centrati sul design, per stimolare ancora di più la creazione di prodotti e servizi digitali innovativi, che ragionano sulla centralità dell'utente e su percorsi progettuali e fabbricativi dall'idea al mercato.
La coproduzione tra WeMake e Polifactory vuole integrare competenze formali e informali provenienti da due differenti ambiti: il sapere e il saper fare accademico e le conoscenze peer-to-peer della comunità maker. Un progetto formativo completo che permette agli iscritti di inserirsi in un contesto esperienziale internazionale, sperimentando direttamente le conoscenze acquisite, condividendole con la comunità.
---
Vuoi saperne di più?
Leggi la pagina di approfondimento per FABACADEMY 2016 e passa a trovarci:
Ti aspettiamo giovedì 10 dicembre alle h.17.00 presso Polifactory,
Politecnico di Milano Campus Bovisa – Edificio B7, in Via Durando 10.
Iscriviti!

---
Esplora la Fab Academy 2015
I progetti sviluppati dagli studenti nell'edizione 2015 sono raccolti qui.
Qui invece l'archivio completo delle lezioni, dei tutorial e delle pagine degli studenti.
Come e quando iscriversi a Fab Academy 2016:
Per partecipare alla Fab Academy 2016 è ora possibile iscriversi online indicando WeMake nella domanda di iscrizione.
Per versare il primo acconto (50%) c'è tempo fino al 15 gennaio 2016.
Il secondo versamento è previsto per il 15 marzo 2016.
Sede: WeMake – via Stefanardo da Vimercate 27/5 – Milano (MM1 Gorla)
Tutor: Saverio Silli, affiancato da docenti del Politecnico di Milano e makers della comunità di WeMake
Polifactory è il makerspace del Politecnico di Milano, realizzato in collaborazione tra il dipartimento di design, di meccanica e di elettronica, informazione e bioingegneria.
www.polifactory.polimi.it
WeMake è un makerspace e fablab di Milano, che investe nell'ambito educativo e formativo. È partner di istituzioni pubbliche e private in numerosi progetti sperimentali e di innovazione sociale.
wemake.cc
Contatti e informazioni:
Constantino Bongiorno – costantino [at] wemake.cc
Massimo Bianchini – bianchinimassimo [at] gmail.com
fabacademy.org
---

WeMake and Polifactory present FabAcademy 2016
Fab Academy is the most comprehensive course to learn the basic principles of digital fabrication, ranging from the use of machine tools to design integrated circuits and technologies. Fab Academy represents the evolution, on a globale scale, of "How to Make (Almost) Anything", the course originally created by MIT Boston and developed worldwide through the network of Fablabs.
The course is held simultaneously in more than 70 Fablabs worldwide. It is divided in classes taught by videoconference from Neil Gershenfeld and practical sessions conducted in WeMake, where each candidate is constantly supported by training and mentoring activities.
WeMake and Polifactory
The idea which stimulate WeMake-Polifactory coproducing the new Fab Academy 2016 is to develop an experimental edition of this famous course. Starting form the rich contents which characterize the course "How to make (almost) anything", we want to add some modules centered on design, in order to stimulate even more the creation of innovative digital product service systems, understanding the centrality of the user and developing a strategic vision from ideas to market.
The co-production WeMake-Polifactory wants to integrate formal and informal skills coming from two different areas: academic knowledge and know-how and peer-to-peer knowledge which characterize the Makers community. A comprehensive training program that allows students to be part of a wider international community, experiencing acquired knowledge and sharing it with the community.
---
Want to know more?
Read our webpage for FABACADEMY 2016 and come to visit us:
We are waiting for you on Thursday, December 10th, 5PM at Polifactory,
Politecnico di Milano Campus Bovisa – Edificio B7, in Via Durando 10, Milan.
---
Explore Fab Academy 2015
Here you can learn more about Fab Academy 2015.
Complete archive of lectures, tutorials and student pages: here.
How to apply to Fab Academy 2016:
You can apply online to Fab Academy 2016, marking WeMake as Fablab.
The first half of the tuition fee has to be paid within January 15th, 2016
The second half of the tuition fee has to be paid within March 15th, 2016
Sede: WeMake – via Stefanardo da Vimercate 27/5 – Milano (MM1 Gorla)
Saverio Silli is the local tutor, supported by other tutors and professors of Politecnico di Milano and the WeMake makers community.
Polifactory is the makerspace of Politecnico di Milano, developed by the Department of Design together with the Department of Mechanics and the Department of Electronics, Information and Bioengineering. www.polifactory.polimi.it
WeMake is a Milan makerspace/fablab highly focused on educational field. It is partner of several public and private bodies and institutions and it is involved in many experimental and social innovation projects and research programmes. wemake.cc
Contacts and infos:
Constantino Bongiorno – costantino [at] wemake.cc
Massimo Bianchini – bianchinimassimo [at] gmail.com
fabacademy.org