The Match Code
FASHION | IOT | WEARABLE

Design Week 2023 | 18 – 23 aprile | via Sirtori 32 Milano
COS'È – ABOUT
The Match Code è un wearable, concepito secondo il principio dell'human-centered design, realizzato digitalmente con un device IoT integrato, personalizzabile attraverso una Web App. L'obiettivo è prototipare un accessorio indossabile che riesca a facilitare, supportare e incoraggiare le relazioni tra le persone in contesti di socialità: un concerto, un club, una discoteca, un locale. The Match Code è rivolto a chi vuole condividere passioni e hobby con nuove persone. E' pensato anche per chi ha problemi nella comunicazione verbale.
The Match Code is a wearable, conceived according to the principles of human-centered design, digitally realized with an integrated IoT device, customisable through a Web App. The Match Code is a wearable that people can wear on any occasion. People who want to share passions, loves and hobbies. People who have communication problems. It helps connecting people in real life through simple non verbal communication defined by personal preferences and activities.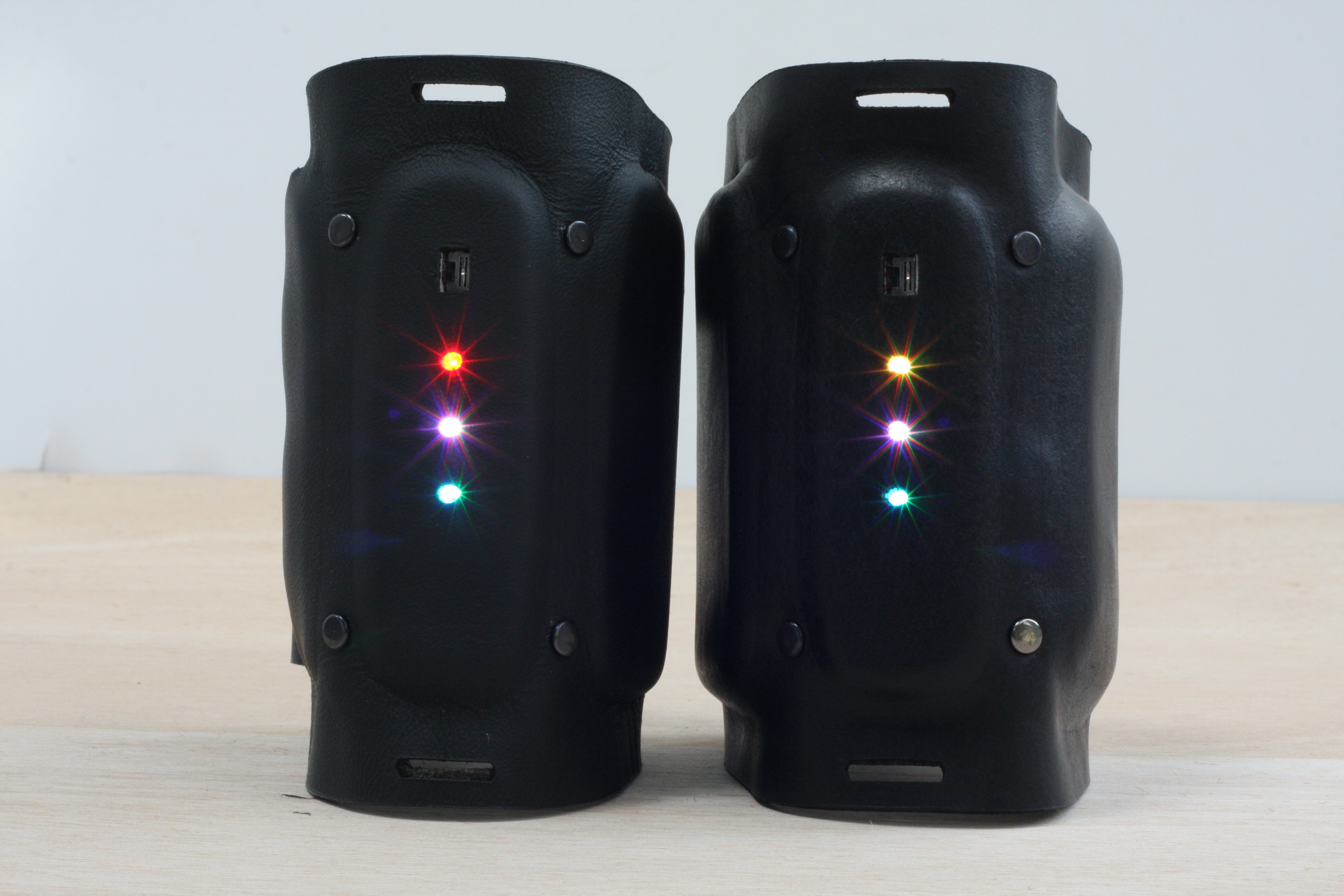 SOCIALWEAR
The Match Code nasce da un bisogno di riprendere la vita sociale nel periodo post pandemico. Nasce per facilitare le relazioni di persona. Non è un servizio di incontri online. E' un wearable che permette il riconoscimento delle persone che hanno i tuoi stessi interessi. Il matching avviene di persona e non è mediato attraverso una chat. The Match code attraverso degli attuatori che inviano dei segnali (led e vibrazioni) a chi lo indossa, consente la segnalazione di disponibilità all'interazione sociale: bere qualcosa insieme, fare nuove conoscenze, ballare. Match Code favorisce le relazioni consensuali, contrastando in tal modo fraintendimenti, comportamenti antisociali e non desiderati. Leggi l'articolo
Un successivo sviluppo del prototipo potrebbe interessare un pubblico che ha difficoltà nell'interazione interpersonale e fungere quindi da dispositivo abilitante la comunicazione favorendo processi di inclusione e coesione sociale.
The concept was inspired by the issue of personal safety in nightclubs. The Match Code is a wearable accessory that can facilitate, support and encourage relationships between people in social contexts: a concert, a club, a disco, a venue. While Studying the issue of communication amongst individuals in their modern culture, they realized that the problem has deepened with social distancing and digitally mediated relations. WeMake e Ann Galé want Match Code to encourage in-person consensual relationships, avoiding misunderstandings, antisocial and unwanted behaviors.
The Match Code enables users to notify others of their willingness for social interaction via led lights and vibration signals. The connected app is useful to find people with similar interests by programming the bracelet. The wearable doesn't include a screen so that the communication will only take place in real life, between the two (or more) humans using it.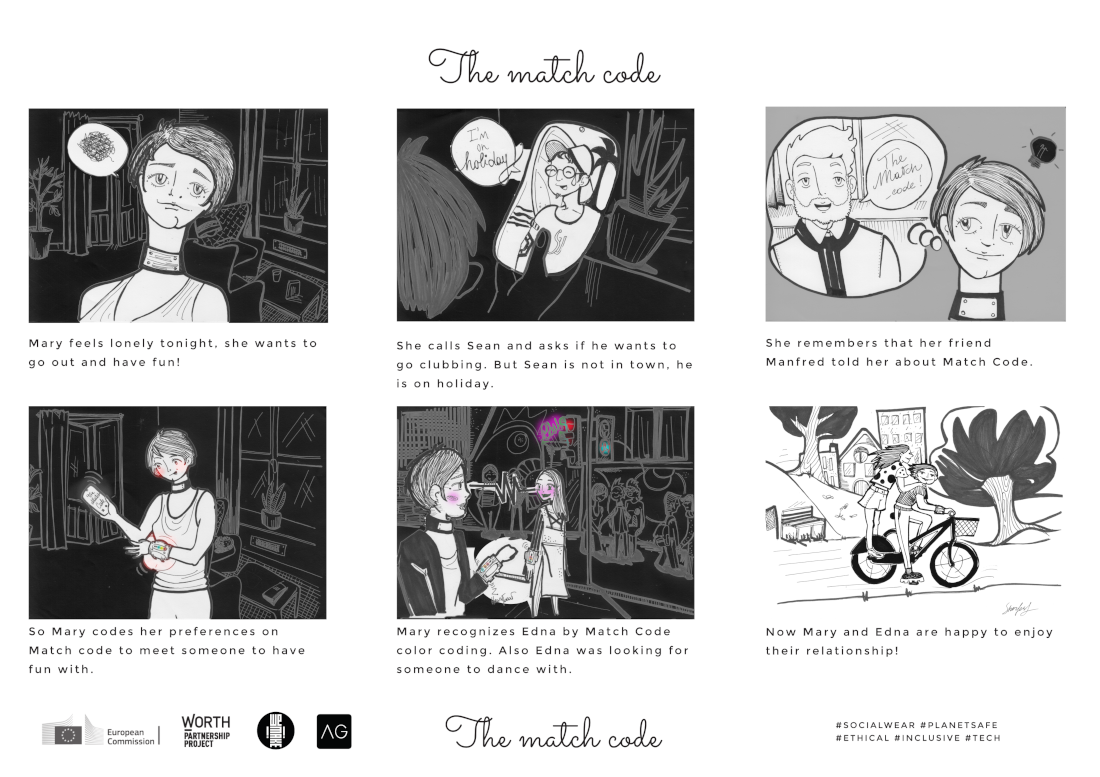 CHI SIAMO – ABOUT US
The Match Code è un progetto di ricerca sui wearable di Ann Galè e WeMake finanziato da Worth II, la seconda edizione dell'iniziativa Worth Partnership Project, finanziato dalla Commissione Europea nell'ambito di COSME, il Programma dell'UE che favorisce la collaborazione tra designer, crafter, makers e piccole medie imprese.
Ann Galé è un marchio di accessori in pelle artigianali e sostenibili con sede a Berlino, i cui valori principali sono l'autostima, la sostenibilità e l'accessibilità.
WeMake è un'impresa innovativa con sede a Milano che fornisce servizi e formazione alla comunità creativa nel campo della fabbricazione digitale e dell'elettronica.
The Match Code is a wearables research project by Ann Galè and WeMake, funded by  Worth II, the second edition of the Worth Partnership Project initiative, funded by the European Commission in the context of COSME, the EU Program that promotes collaboration between designers , crafters, makers and small and medium enterprises.
Ann Galé  is an artisan sustainable leather accessory brand based in Berlin. Their main values are sustainability and accessibility.
WeMake is an innovative enterprise based in Milan providing services and training to the creative communities in the field of digital manufacturing and electronics. WeMake is a Fab Lab focused on open design and fashion.
THE MATCH CODE TEAM & CONTACTS
Ann Galè | Anastasiya Galyeyeva
info@anngalè.com | ann-gale.com
WeMake | Mauro Alfieri, Costantino Bongiorno, Cristina Martellosio, Sara Savian
sara@wemake.cc | wemake.cc

DOWNLOAD THE MATCH CODE ONE PAGER
—————————————————————————————————————————————