Valentina is an open source CAD software for fashion that allows you to design and create digital patterns. The course lasts 17 hours and is divided into 9 hours online, 6 hours at the fablab, 2 hours online Q&A.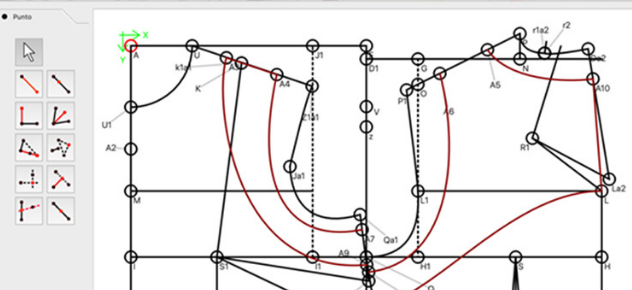 One of the most important steps in the creation of a garment is the construction of the pattern. In the fashion field several CAD software are used for the digitization of patterns, but they are extremely expensive. Valentina can be downloaded for free and has a large community for design and programming support. "Digital pattern making with Valentina": throughpoints, lines and angles you can produce simple and complex projects. Many are its positivea spects, one of them being the fact that you can save and export the file in the format youprefer, from laser cutting to tessellate A4 size.
The course allows students to develop skills and methods in using Valentina software for the creation of patterns. The course program is detailed in:
– Introduction to digital patterns
– Valentina: tools and working environments
– Tech: from the dot to the design
– Individual and multi-size tables
– Detail: from the outline to the grainline
– File export: Layout and Puzzle
– Dxf to real: Laser cutting your first digital design.
Digital Pattern Making with Valentina – Open source CAD software for fashion was held for the first time at Onl'fait, the fablab in Geneva.
Professor biography
Sara Savian is a freelance fashion designer who has always focused on sustainability, ethics and self-production. After her studies at Politecnico di Milano and at the University of Applied Arts in Vienna she collaborates with zero kilometer ateliers and social projects. Since 2014 she has worked at WeMake fablab researching digital fashion for urban manufacturing. In 2016 she started collaborating with Mauro Alfieri experimenting in Wearable technologies related to Arduino, starting from the rehabilitative glove Rehub to the collection of interactive clothes Emotionwear. Since 2019 she is professor at Politecnico di Milano University in the "Fashion 4.0" class on fashion and digital technology.