(re)Making Humanities: simposio e workshop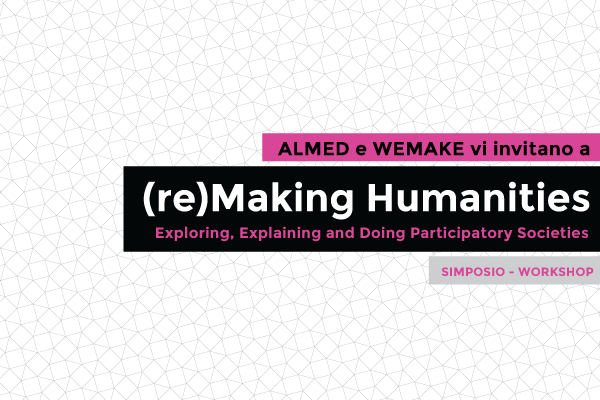 ALMED (Alta Scuola in Media Comunicazione e Spettacolo dell'Universita' Cattolica) in partnership con WeMake organizzano per venerdi' 7 Ottobre 2016 un evento per mettere a fuoco le potenziali sinergie fra accademia e mondo del making.
L'appuntamento di un giorno ha come ospite con James Carlson invitato dagli Stati Uniti per riflettere insieme a noi nel simposio in mattinata aperto a tutti e poi a WeMake con un lavoro specifico con gli studenti.
Ti invitiamo a partecipare!
---
(re)Making Humanities: Exploring, Explaining and Doing Participatory Societies
Programma:
Ore 11:30 – 13:30, presso aula G019 Vismara (L.Go Gemelli 1)
James Carlson, Centre de Recherches Interdisciplinaires (CRI), Parigi; The School Factory, Milwaukee.
Zoe Romano e Costantino Bongiorno, WeMake, Milano
Matteo Tarantino, Università Cattolica di Milano.
Il simposio è ospitato dal corso in Sociologia e Antropologia dei Media ed è aperto al pubblico.
Ore 15:30 – 18:30 presso WeMake – via Stefanardo da Vimercate 27/5 MMGorla
30 studenti – selezionati tramite un modulo di iscrizione online – sperimentano presso il makerspace WeMake un approccio operativo al design thinking sotto la guida di James Carlson e dei fondatori di WeMake. [MT1]
Se sei studente della Cattolica, per iscriverti all'attività pomeridiana usa il seguente modulo.
In collaborazione con CIMO – Comunicazione per l'Impresa, i Media e le Organizzazioni Complesse e Ge.CO. – Gestione di contenuti digitali per i media, le imprese e i patrimoni culturali dell'Università Cattolica del Sacro Cuore .