Workshop WebGL e Grafica 3D nativa – dal 6 giugno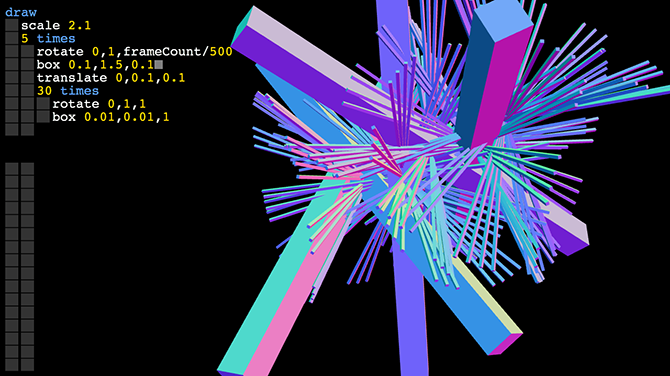 Il Web è passato da una forma prevalentemente testuale ad un ambiente sempre più ricco di immagini 2D. Ora il passaggio al 3D è arrivato. Reso possibile da nuovi standards e da tecnologie open-source, il Web 3D sta accadendo qui e adesso. Mai prima d'ora era stato possibile portare video, immagini e dati in un solo formato, nativo, aperto e disponibile su ogni dispositivo. TV comprese.
Vieni a scoprire come portare il 3D nel tuo settore, o scegli di essere lasciato indietro, con contenuti 2D ormai superati.
WebGL è ovunque, gratuito, open, per tutti, e sta rapidamente diventando un movimento globale coinvolgendo interi settori.
Il Web 3D sta accadendo qui e adesso. Vieni e scopri perché.
///
The Web has transitioned from mostly text, in an increasingly rich 2D image environment.
Now the shift to 3D has arrived.
Enabled by new Web standards and open-source technologies the 3D Web is happening Here and Now.
Never before has been possible to bring video, pictures and data delivered in one single format, native, open and available on every device. TVs included.
Come and see bringing 3D to your business, or get left behind, with stale 2D contents.
The 3D Web is happening Here and Now. Come and see why.
///
Il 6 giugno parte il primo workshop hands-on, gratuito, su WebGL e grafica web 3D nativa.
Organizzato da 3D Web Milano e ospitato da WeMake Makerspace si svolgerà in 4 appuntamenti:
– sabato 6 giugno
– sabato 13 giugno
– sabato 20 giugno
– sabato 27 giugno
Dalle ore 11 alle ore 16 con un'ora di pausa pranzo.
11:00 – 13:00 peer-driven learning session
13:00 – 14:00 pausa
14:00 – 16:00 hands-on code session
Il taglio sarà educativo, non squisitamente per sviluppatori, si imparerà in piccoli gruppi, idealmente 1-a-5, con un coach per ogni gruppo.
///
Il workshop è gratuito ed è gradita la presenza a tutti e 4 gli appuntamenti perché le lezioni sono collegate.
///
///
Questo primo Workshop WebGL a Milano è stato reso possibile grazie al generoso sostegno di Khronos Group.
This first-ever Milan WebGL Workshop is made possible thanks to the generous support of Khronos Group.
///