Seamly 2D is an open source CAD software for fashion that allows you to design and create digital patterns. One of the most important steps in the creation of a garment is the construction of the pattern. In the fashion field several CAD software are used for the digitization of patterns, but they are extremely expensive. Seamly 2D can be downloaded for free and has a large community to support it. "Digital pattern making with Seamly2D" is the in-depth course on Seamly 2D software. Through points, lines and angles you can produce simple and complex projects. Many are its positive aspects, one of them being the fact that you can save and export the file in the format you prefer, both for laser cutting and for your home printer.
Even though the curse is online this is not a tutorial! Digital Patternmaking with Seamly2D is a live class where you can interact with the teacher, get to know all the tricks to make your workflow faster and smarter, design a pattern together in order to know the rules behind parametric patterns and get support in the development of one of your designs in real time.
For further informations about the class feel free to contact us at workshop@wemake.cc!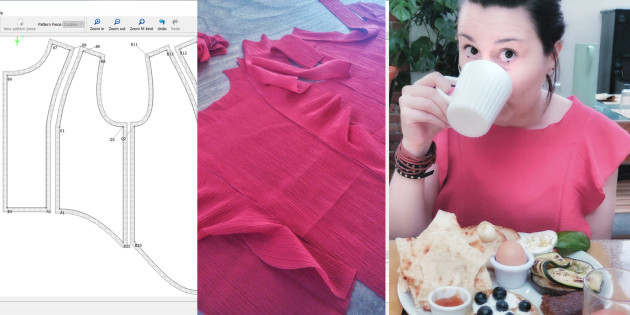 When
Friday 10th July – h. 4pm/6pm CEST
Saturday 11th July – h 3pm/7pm CEST
Sunday 12th July – h 3pm/7pm CEST
Friday 24th July – h. 4pm/6pm CEST
Saturday 25th July – h 3pm/7pm CEST
Sunday 26th July – h 3pm/7pm CEST
Check the timings on your timezone here: link
20 hour class, six meetings in streaming, english language
Attendees
Digital Patternmaking with Seamly2D is dedicated to professionals and SMEs in the fashion field looking for a development of their digital skills using parametric based methods for patternmaking and an open source software.
If you are a student in the fashion field write us at workshop@wemake.cc to know more about the absolute beginner course for Digital Patternmaking wit Seamly2D.
Price
270,00 € (plus VAT) full 20 hours class
150,00 € (plus VAT) first half class – 10/11/12 July
150,00 € (plus VAT) second half class – 24/25/26 July
10% of the ticket will be donated to Fabricatorz.org to sustain Seamly2D development!

The class will activate with a minimum of 10 participants.
Tickets will be available until Thursday the 9th of July at 2pm CEST!

If the class will not activate, you will get an email and be refunded the whole ticket.
If you have a VAT exemption please let us know in the form and we'll reimburse VAT through Payment platform.
For further information please feel free to write to workshop@wemake.cc, our team will answer as soon as possible!! :)

For further information please write to workshop@wemake.cc .
Teacher
Sara is a freelance fashion designer who has always focused on sustainability, ethics and self-production in fashion. After her studies at Politecnico di Milano and Angewandte Kunst, Wien, Universities she collaborates with Km0 ateliers and ethical fashion projects such as Cooperativa Sociale Alice, Maison Matthan Gori and Lavgon. Sara has worked with WeMake since 2014, experimenting with digital technologies and open source softwares, looking for new design and manufacturing solutions for fashion. Since 2019 she is professor at Politecnico di Milano with the "Fashion 4.0" module on fashion and digital technology for master degrees students of Design for the fashion system section.
As WeMake designer and expert of fashion and digital technologies, Sara teaches many classes of the Fastweb Digital Academy on this subject.
About WeMake
WeMake is a Makerspace and Fablab, a space providing digital technologies for prototyping and production to DIT "Do It Together" or make it together, in order to create culture and connections between different languages and needs. Since 2014 WeMake is an innovative company that offers services and training on digital manufacturing. WeMake promotes community activities such as: Arduino User Group & Wearables, Milano Live Coding and Digital Fashion Night.
Teaching program
The course allows students, through theoretical and practical lessons, to develop skills and methods in using Seamly 2D CAD software for the creation of patterns.
The course program is detailed in:
– Introduction to digital patterns
– Seamly 2D : tools and working environments
– Individual and multi-cut tables
– Design parametrically
– Basic pattern: from the drawing to the straight line
– File export
Skills
Digital pattern making
Parametric pattern making
Grading
Fashion Design
Problem Solving
Requirements
Participants will work on their own laptop with internet connection and ZOOM installed. Download Seamly2D software in order to be ready for the setup in class.