#EUvsVirus hackathon | 24-26 aprile 2020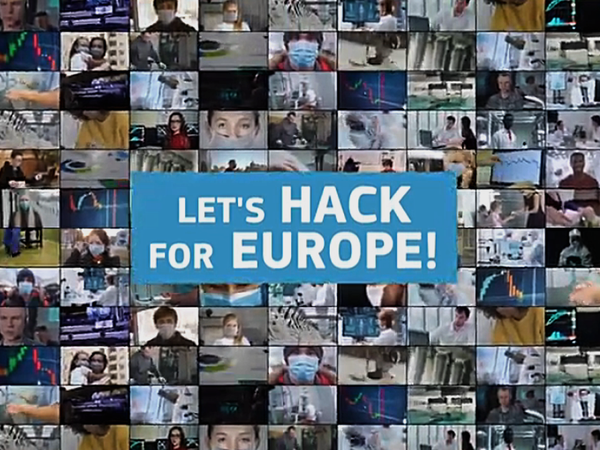 Can you hack it? Dal 24 al 26 aprile 2020 la Commissione Europea promuove #EUvsVirus, un hackthon paneuropeo che ha come obiettivo quello di progettare insieme fra addetti ai lavori, appassionati, esperti, meno esperti, centri di ricerca, università, aziende o organizzazioni della società civile soluzioni per 37 sfide sociali ai tempi del Covid-19.Siamo partner dell'iniziativa e partecipiamo in veste di mentor dopo aver preso parte al bootcamp organizzato da Cariplo Factory in collaborazione con Hack for Italy e Tree dedicato a tutti gli innovatori italiani, che si è svolto lo scorso 18 aprile.
L'iniziativa #EUvsVirus è stata fortemente voluta dalla Commissaria Europea per l'Innovazione, la Ricerca, la Cultura, l'Istruzione e la Gioventù Mariya Gabriel, coinvolge i 27 stati membri dell'Europa oltre a Norvegia, Israele, Svizzera e Ucraina in quanto associati a Horizon 2020, il programma dell'UE per la ricerca e l'innovazione. Le aree tematiche del contest sono: Health & Life, Business Continuity, Social & Political Coesion, Remote Working & Education, Digital Finance.

WeMake partecipa in particolare con Costantino Bongiorno alla sezione dedicata a Health & Life suddivisa in diverse challenge: Protective equipment, Ventilators/respirators, Protection of medical personnel, Real time communication & prevention, Cheap rapid tests, Lack of skilled caregivers, Research. La materia è sconfinata e lo sappiamo bene, non abbiamo la pretesa di seguire tutto, ma sicuramente siamo interessati ad approfondire e conoscere chi si mette a disposizione di questa emergenza legata alla pandemia fuori dall'Italia.