Body Interferences – Workshop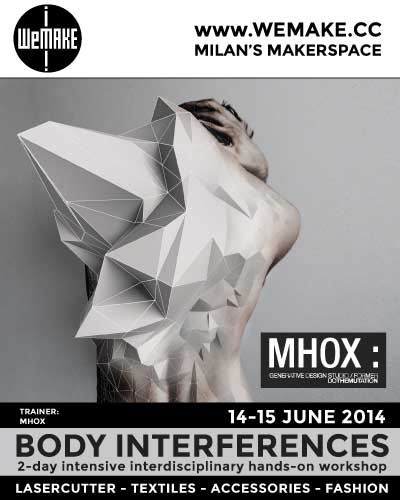 Due giorni di esplorazioni per la creazione di accessori tessili progettati in 3d con software open source Blender e realizzati tagliando e incidendo tessuti con la lasercutter con pattern triangolari
2-day intensive interdisciplinary hands-on workshop: it aims at exploring digital design sensibilities, techniques and methods of making accessories for the body within the framework of the new manufacturing paradigm.
Attention: In order to allow participation we shortened the workshop to 2 days (instead of 3)
Attenzione: Per facilitare la partecipazione abbiamo accorciato il workshop a 2 giorni (invece che 3)
The main focus is the exploration of methods of designing digital forms that could be then deployed across the body. More than design an accessory we will experiment with a customized virtual body and strategies of geometric alteration, exploring aesthetic and functional solutions based on sharp polygonal morphologies. The design workflow will include a digital fabrication phase, producing fashion accessories that might be ultimately worn by people.
FOCUS
Bringing designers to think through the computer as a medium, starting from digital forming techniques, harmonising them with the human figure and developing sensibilities for new approaches
Getting confident with the potentialities of a 3d virtual body and digital fabrication
Exploring not only what forms we could fabricate but also how the laser cutter works, which effects creates, which boundaries can be pushed.
Trainers
MHOX – A generative design studio developing body extensions, objects or systems that integrate the human body to mutate its aesthetic and functional potential. Beyond the boundaries of product design, the studio engages the exploration of processes and conditions of body alteration, mutation and metamorphosis, creating communication actions and educational programs.
http://www.mhoxdesign.com/
When and Where
The workshop will take place at WeMake on the 14-15  of June.
Participants
Min. 12 people and max. 20 people
Cost
Early Bird – 199 euro (IVA included, for bookings until 6th of June)
Full Price – 240 euro (IVA included, for bookings to 12th of June)
All Materials included
For any questions drop us an email workshop[at]test.wemake.cc
Requirements
All participants should bring their personal laptops with Blender installed.
Prerequisites
Beginner's knowledge of Blender modeling is helpful.
Language
Trainers are italian mother-tongue but will teach in English if some of the participants don't speak italian.
I docenti sono madrelinga italiana ma le lezioni si terranno in inglese se alcuni dei partecipanti non parlano italiano
AGENDA
Day 1 – 14th of  June
//Digital Tools
Virtual body creation and editing on Makehuman software
Basic polygonal modelling
Fitting geometries on virtual body
Parametric workflow through Blender's tools and modifiers
Creation of paper-models starting from digital geometries
//Aesthetics
inspiration boost: chilled media overview
Day 2 – 15th of  June
//From Digital to Physical
Construction&Fabrication techniques
Workflow&TeamWork
Assisted Brainstorming
Fine Tuning
Production
Photoshooting